Public Reporting
Publicly available information on healthcare performance encourages transparency and allows patients to make informed choices for better care. Cumulative effects of informed choices contributes to improvement across the entire healthcare system and can be an important driver of engagement to help focus on what matters most to patients.
Metrixcare Public Reporting delivers numerous benefits by driving healthcare improvement through greater patient choice. Public reporting can also enhance the profile, reputation and market share of healthcare organisations.
However, public reporting initiatives present many challenges and pitfalls. Generally, consumers don't believe that there is actually a quality gap in healthcare. They assume that healthcare services are always safe, efficient and of high quality. Consumers define quality differently to providers which means that any public reporting projects must ensure that performance information is meaningful and easy to understand for the purpose of patient choice in making decisions about their care.
There are also dangers in making too much information available which can be counter-productive. Added to this are tensions between internal and external reporting requirements which can inadvertently encourage gaming, cream skimming & blame shifting by healthcare providers if not done carefully within an environment of trust and transparency.
Live demo
See the Public Reporting Module in a live demo
Integrated Features
Highly configurable visualisations are available for public reporting that can be easily integrated into public facing web sites
Data visualisation designs reflect international best practice for public transparency
Supports progressive expansion of public reporting initiatives over time
Multiple indicators can be published in a summary view with colour coding of overall performance
Communicate past and current performance, benchmark comparisons and performance goals
Generate indicators directly by linking to the Metrixcare National Safety and Quality Healthcare Standards (NSQHS) Module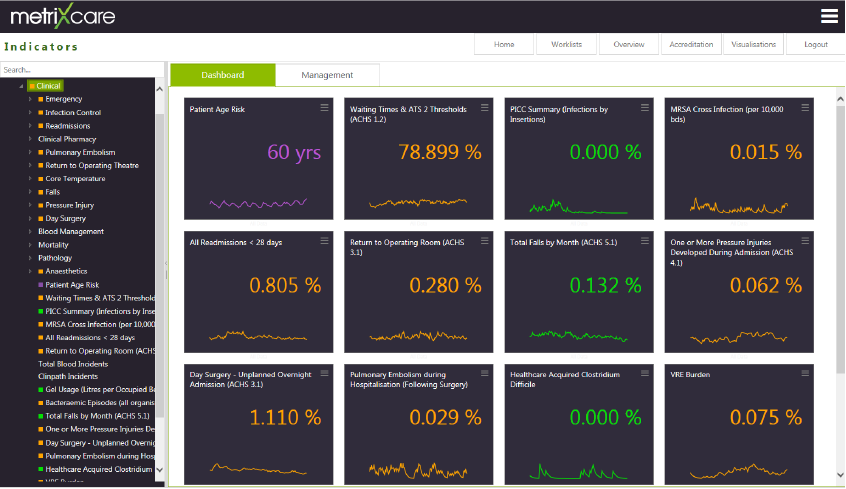 Improvement Journey
Facilitates trust, transparency and accountability of performance with clinicians
Supports patients in making informed treatment choices
Promote achievements and projects that provide better care
Provides evidence of patient feedback and engagement for Accrediation and National Quality Standards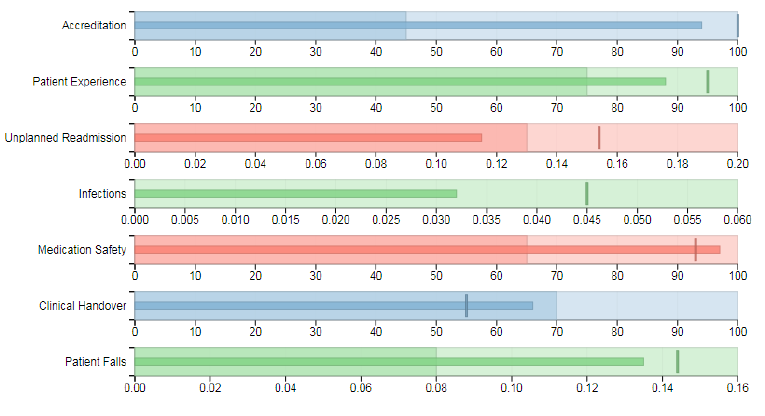 Download the Public Reporting Brochure
Subscribe below to download the Metrixcare Public Reporting Brochure