Platform Overview
Metrixcare is a real-time, continuous improvement platform that can track a wide range of clinical and corporate metrics and quality outcomes. With its informative metrics, revealing visualisations, powerful decision support capabilities and seamless data integration, Metrixcare empowers healthcare providers to achieve the best possible outcomes for their patients. Metrixcare's modular design enables customers to build on the core of the platform at their own pace and as their data analytics capability matures. Over time healthcare providers can add the modules they need to improve the services they deliver to their patients and build a unified environment for information analytics and data-driven clinical governance improvement. Delivered either as a securely hosted software service or locally installed Metrixcare is a fully compliant with the Australian Privacy Principles 2014.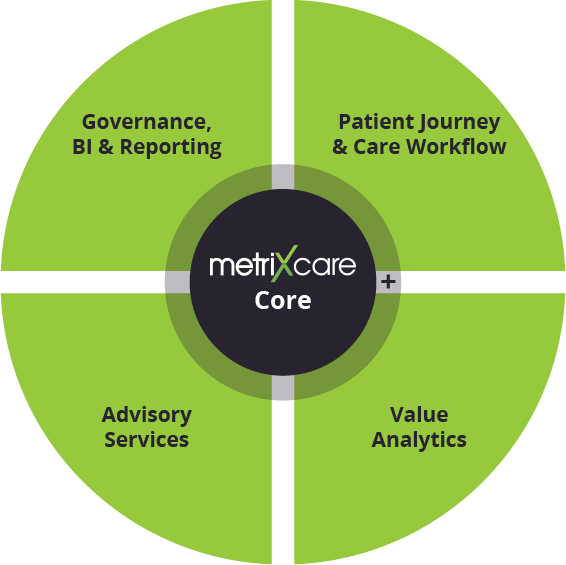 Metrixcare Core
At the heart of the Metrixcare platform is a comprehensive, flexible and agile Enterprise Data Warehouse that provides the central repository for clinical and corporate information. Even if health care providers already own a data warehouse or other relational or analytic information store, Metrixcare can map directly to this information without replication into its own data repository. Metrixcare's data warehouse structure decouples integration processing from source data information systems reducing data query loads on upstream transactional systems. In other words, Metrixcare can extract information from a health care providers other core systems without impact to user response times. In addition, requests for information from other systems can be batched or implemented using message-oriented broadcast approaches. Metrixcare can also be used to incorporate a collection of data tailored to the needs of your organisation.
Metrixcare Core +
The data available through Metrixcare can also be consumed by a wide range of popular business intelligence tools such as QlikView, Tableau, Microsoft Power BI and other reporting tools. This functionality provides the flexibility to deliver information through existing reporting initiatives to provide additional and or specialised reporting features.
Governance, BI & Reporting
Metrixcare has at its core a comprehensive reporting capability.
However, the platform goes further. Traditional reporting and business intelligence systems give only a one-way, passive view of data that are disconnected from the activities of managing change and sustaining improvements.
Patient Journey & Care Workflow
Metrixcare provides a range of modules that support patient-centric care and optimised clinical workflows that integrate together to compliment existing core systems. The patient journey and care workflow modules fill key gaps in information collection to help create a rich mosaic of safety, performance and improvement information.
Advisory Services
Metrixcare offers a range of expert advisory services that can be accessed on request through participation in the platform. These services are available through our deep internal experience from working inside hospitals as well as through our academic associations with some of Australia's leading universities.
Value Analytics
This novel module for value optimisation of both cost and quality demonstrates the range of efficiencies for particular quality outcomes for multiple hospitals or a single facility. Value analytics can be applied at multiple levels of decision making from sector-wide facility perspectives down to internal single hospital views that provide insight into areas of performance and improvement.
Contact us to find out more