Patient Experience & Feedback
The Metrixcare Patient Experience and Feedback Module provides the ability to collect, analyse and improve the patient care experience with the goal of delivering the best value care that matters to patients. It includes tools for capturing feedback on care delivery through compliments, complaints and suggestions across many different communication channels available to patients. The design of the module encompasses patient feedback, satisfaction surveys, patient experience and Net Promoter Scores to provide a focus on consumer engagement that encourages transparency and improvement.
Features
Public web site feedback forms
Central Feedback Inbox for all social media, email, SMS & surveys
Centralised case management and workflows
Patient Journey Triggers
Net Promoter Score by email and SMS
Patient Satisfaction Survey web forms
Staff compliment report
Patient Reported Experience Measures (PREM's)
Unified dashboard, indicators & reporting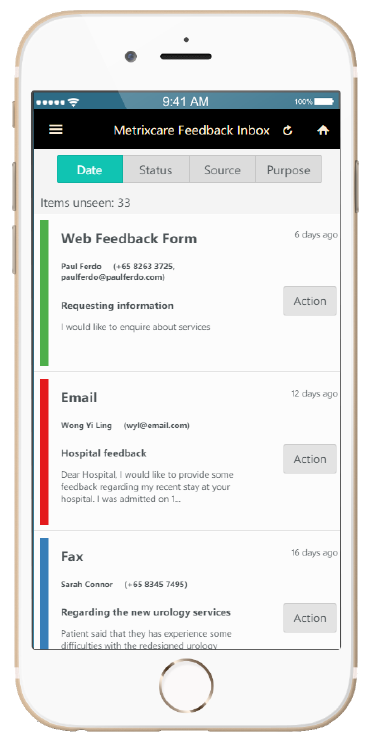 Improvement Journey
Centralise all patient feedback and streamline case management for timely and coordinated responses
Automate patient notifications and collections using patient journey triggers.
Satisfy multiple accreditation requirements for governance of patient experience feedback and consumer participation standards.
Customise the system to your specific needs
Gain performance visibility through regular measurement of processes, outcomes and risk
Assess the extent of risks & the nature of key problems
Identify reasons why issues occur and explore possible solutions
Create and implement interventions that help reduce or avoid harm and unnecessary cost
Continue to monitor performance measures to see if the solutions are making a positive difference to patient care
Metrixcare conforms to the ACSQHS specifications for national set of core, common patient experience questions for overnight-admitted patients
Visual Thinking Tools
Analyse a wide range of real-time performance measures to provide visibility into clinical processes. Visually share relevant feedback and identify opportunities for improvement.
The Metrixcare Data Explorer provides a highly visual and interactive data navigation environment to explore for patterns and meaning in data.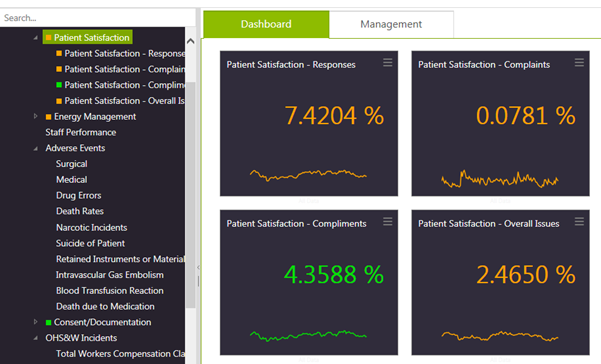 Extend with other Metrixcare Modules
Transparency and patient choice can be supported through publishing patient experience and feedback indicators.
Orchestrate feedback and workflows based on selected care event.
Continuous reporting and improvement of patient feedback & consumer engagement standards. Bedside audit tool for in-patient feedback.
Download the Patient Experience Brochure
Subscribe below to download the Metrixcare Patient Experience Brochure