Anticoagulation Safety
Anticoagulation medications are a commonly used treatment in acute and community care settings to thin the blood but they have many risks and can be complex to monitor and manage with significant potential to cause harm and even death. They have a narrow safe range and are in the top 5 drugs that cause harm and even death costing up to A$85m every year in Australia.
Metrixcare has developed a vertically integrated solution that operates in real-time through a comprehensive set of complimentary tools that prevent anticoagulation harm to patients. These components work together to provide continuous monitoring and safety net features through a holistic approach to anticoagulation management.
Integrated Features
Population Safety Profiling
Case Review with IHI trigger tools
Medication Assessments
Cluster Analysis & Classification Reporting
Clinical Indicator Reporting – including ACHS indicators
VTE risk and prevention
Automated Surveillance & Alerts

Anticoagulation Improvement Journey
Gain performance visibility through regular measurement of processes, outcomes and risk

Assess the extent of risks & the nature of key problems

Identify reasons why issues occur and explore possible solutions

Create and implement interventions that help reduce or avoid harm and unnecessary cost

Continue to monitor performance measures to see if the solutions are making a positive difference to patient care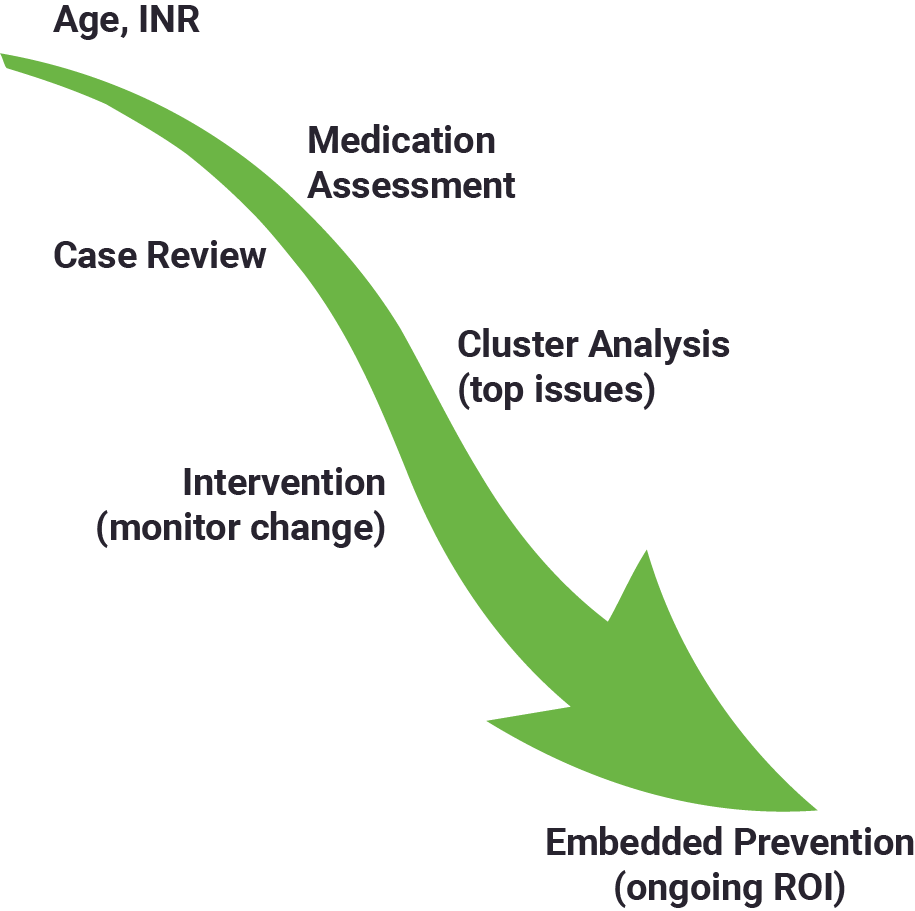 Visual Thinking Tools
Analyse a wide range of real-time performance measures to provide visibility into clinical processes. Visually share relevant feedback and identify opportunities for improvement.
A patient tailored warfarin initiation chart can be printed for inclusion in a medical record.
Enable Guideline Surveillance Services to monitor patient safety continuously and automatically alert when patients are at risk. Schedule automated reports to regularly provide analysis snapshots to those who need it or export to other tools for further statistical analysis, publications and presentations.
The Metrixcare Data Explorer provides a highly visual and interactive data navigation environment to explore for patterns and meaning in data.
Learning and Improvement
The system measures the impact of interventions in a continuous feedback loop by cascading information back up through the layers to see the outcomes of analysis and prevention efforts. Over time these measures change from identifying poor performance to becoming a tool for continuous accreditation of hospitals for patient safety.
Capture prescribing context data for research into drug use across different care settings and then benchmark and measure performance before and after interventions are introduced to track real improvements.
Also gain invaluable competitive intelligence by comparing your performance with other similar facilities while protecting the identity of each facility.