Governance, BI & Reporting
Metrixcare is a real-time, continuous improvement and healthcare analytics platform that can track a wide range of clinical and corporate metrics and quality outcomes that enables healthcare providers to achieve the best possible outcomes for patients as efficiently as possible.
A central feature of the Metrixcare system is a flexible governance tree that organises clinical and corporate indicators into a unified clinical and corporate management and accountability structure that reflects the structure and services of an healthcare organisation.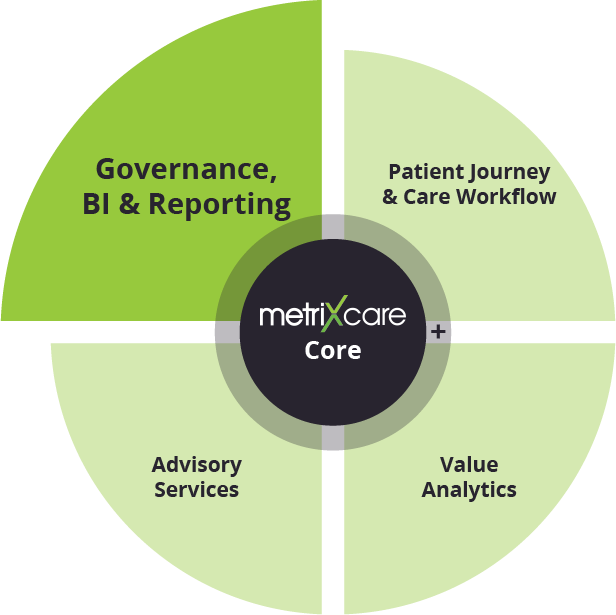 Metrixcare supports numerous pre-configured clinical governance and compliance frameworks that provide manageable and meaningful perspectives on performance accountability and quality improvement. The governance framework features can also be used to implement strategic plans, jurisdictional reporting, public reporting and other performance accountability frameworks.
Embedded within the Metrixcare system is a comprehensive and flexible Enterprise Data Warehouse implementation that provides a central source of clinical and corporate data. The data available through Metrixcare can also be used from a wide range of popular business intelligence tools such as QlikView, Tableau, Microsoft PowerBI and reporting tools. Our approach provides flexibility to leverage existing investments in BI/reporting tools and enable advanced  analytics and reporting features.
This approach encourages engagement, participation and trust to direct the nature of the conversations that occur within an organisation. Through stimulating experimentation and curiosity users can explore their data in new ways for the purpose of managing change and improving value in the face of limited healthcare resources.